In May 2020, construction restarted on one of the most controversial and culturally sensitive megaprojects of President Rodrigo Duterte's infrastructure drive in the Philippines. Critics say the government's contract with Chinese firms is unconstitutional and illegal.
According to the government's National Irrigation Administration, the Chico River Pump Irrigation Project will increase national rice production by around 36,000 metric tonnes of milled rice annually, and save about US$15 million on rice imports.
The project involves building multiple structures including a pump house, sub-station, transmission line, canals and access roads.

In 2019, the government anticipated it would benefit more than 4,000 farmers in Kalinga province, and create some 15,000 jobs during its three-year construction. 
Opposing it is a loose alliance of indigenous people's groups, environmentalists and some national politicians. They have warned of the project's impact on forests and rivers in the mountainous Cordillera region of Luzon – the largest of the Philippine islands.
They have also questioned the legality of the funding agreement with China Exim development bank.
The irrigation project is part of Duterte's signature "Build, Build, Build" programme to create a vast network of roads, railways, bridges and other infrastructure at an overall cost of US$177 billion.
It is forecast to cost 4.37 billion pesos (US$90 million), financed in part by a 3.6 billion peso (US$62 million) loan from China Exim. Duterte signed the funding agreement at a meeting with President Xi Jinping at the Boao Forum in 2018.
Work began later that year, and was initially expected to finish by the end of 2021 or early 2022, though construction was paused for three months early in 2020 due to the Covid-19 pandemic, according to the Chinese embassy in the Philippines.
Defending indigenous rights
In 2019, the Cordillera People's Alliance (CPA), a federation of grassroots organisations representing the region's indigenous communities, denounced the irrigation project for violating the Philippine Constitution and the rights of indigenous peoples to self-determination.
The CPA says the project occupies ancestral lands, that it was greenlighted without free, prior and informed consent from the indigenous peoples of Kalinga and Cordillera, and that the government did not carry out any community consultation before signing the loan agreement with China Exim.
Joanna Cariño, a member of CPA's advisory council and a longstanding indigenous peoples' activist, told China Dialogue: "The [project] is constructed on Pinukpuk ancestral land [in Kalinga province], but the government did not follow its own rules for bringing projects into indigenous peoples' communities."
The CPA also disputes the official account of the project's benefits, saying it will service only one barangay (district) in Pinukpuk areas.
The Center for Environmental Concerns – Philippines (CEC) has warned that many plant and animal species could be harmed by the 8,700-hectare irrigation system, which will draw upon and alter a watershed of about 1,886 square kilometres. Most of this is public land of forest and national parks.
"The loss of these flora and fauna would take years to revitalise," said Pia Federico, CEC's training and community services coordinator.
Federico predicted that, instead of free-flowing irrigation, the project would "lead to competition for water use especially during drought periods, increase the turbidity of river flows, particularly during its construction phase, and cause changes in flow patterns downstream due to water diversion."
CEC forecasts long-term physical changes to soil, water and air that will alter the health and make-up of ecosystems, facilitate soil erosion, reduce vegetation and increase the risks to threatened freshwater species in the downstream Cagayan River, such as mullet, native catfish, snake-skinned gourami, eel, goby, native snail, clam and giant freshwater prawn.
Federico said soil erosion and siltation have already resulted from a similar project, the Balog-Balog Irrigation System, located south of the Chico River near the city of Tarlac.
Constitutional arguments
Neri Colmenares, a human rights lawyer and former congressman, has petitioned the Philippines' Supreme Court to declare the loan from China Exim unconstitutional and void. He has asked the court to order the suspension of the project.
Colmenares is a member of Bayan Muna, one of 12 progressive parties within the Makabayan bloc, a coalition in the Philippine House of Representatives.
"I obtained a copy [of the loan agreement] when a public official asked me to review the document's legality, and we discovered it was invalid," Colmenares told China Dialogue.
He explained that loan agreements of this kind often lack detailed information, which goes against the constitution. "Duterte is one of the most un-transparent presidents we've had in office," he added.
The loan was also approved before going to the central bank's Monetary Board, which Colmenares said violates a transparency clause of the constitution mandating prior approval by regulators.
"

This is again a case of oppression and discrimination against indigenous peoples, whereby their resources are used for 'national development' even if the project does not benefit them.

Joanna Cariño, council member, CPA's advisory council 
The petition has been filed for a year now, but no particular legal conference has been initiated by the court to respond to it. However, the petition was successful in starting a debate about the constitutionality of the loan agreement.
Several protests and discussions caused delays to the project's construction back in 2019. The Department of Finance was also forced to release a copy of the document, which shows it contains a confidentiality clause.
Colmenares objects to this clause on the grounds that it violates the right of the Filipino people to information on foreign loans.
"The present constitution was crafted to ensure that Filipinos are aware of how public funds are used, especially after Marcos' dictatorship acquired billions of debt for the country," the lawyer explained.
Colmenares has advised the indigenous peoples of Kalinga to file a legal case in local courts as primary injured parties of the project. However, in the Philippines indigenous activists are threatened with continuous attacks and intimidation.
Activists threatened
The project is particularly sensitive as it revives memories of a battle for indigenous rights against a World Bank-financed dam and irrigation project on the Chico River in the mid-1960s.
Back then the Kalinga martyr Macliing Dulag unified Cordillera communities and garnered international media attention. The World Bank eventually withdrew from the project.
"That experience of development aggression during the Marcos dictatorship has made the indigenous peoples allergic to dams," CPA advisor Cariño said.
In January this year, officials dismantled a monument commemorating Dulag and other Chico River dam protestors. Prior to its removal, the Department of Public Works and Highways said the monument, built in 2017 on Dulag's property, "obstructed" the road.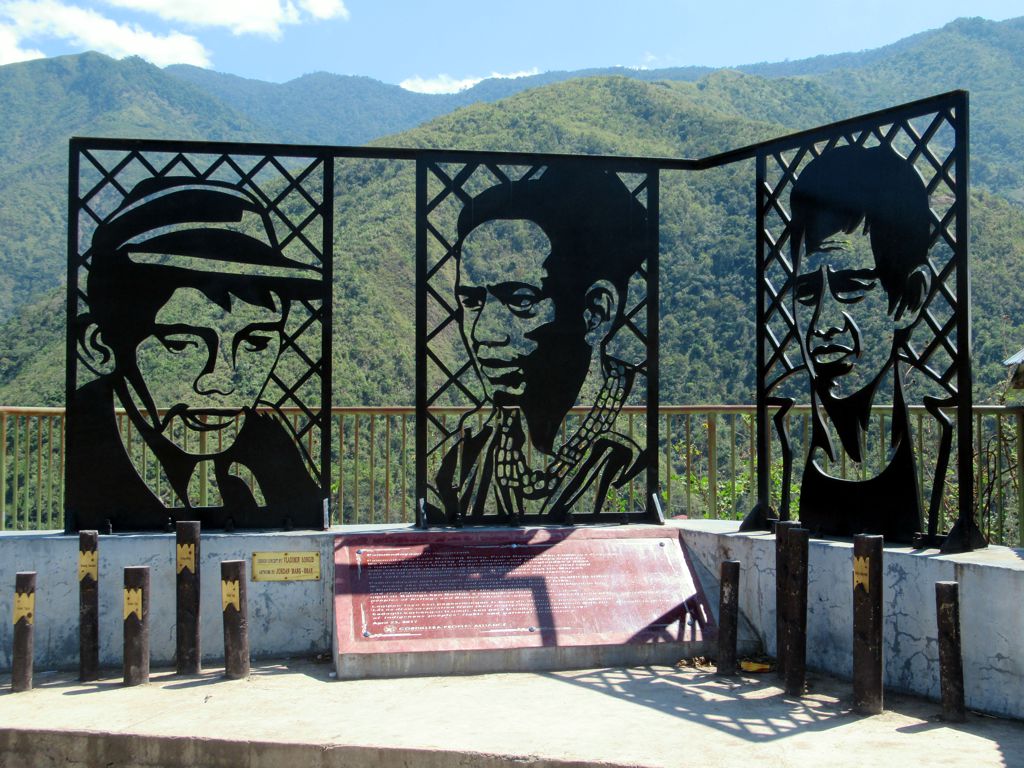 The Covid-19 lockdown has seen an upsurge in military and police harassment of indigenous activists in the Cordillera region.
The military has increased the number of road checkpoints, and in May last year, army helicopters dropped counter-insurgency leaflets near Sagada town.
The leaflets "red-tagged" activists and legitimate progressive groups by linking their names to the Communist Party of the Philippines and its military arm, the New People's Army.
Under fabricated charges, Cordillera's chief of police has also issued a "shoot-to-kill" order against CPA chairperson, Windel Bolinget.
"This is again a case of oppression and discrimination against indigenous peoples, whereby their resources are to be used for so-called 'national development' even if the project does not directly benefit them," Cariño said.
Although there have been no developments in response to the Supreme Court petition filed by Colmenares, Cariño stressed that indigenous communities will continue to resist the project and assert their rights.
"A more practical and viable alternative would be government support for community-managed communal irrigation systems," she said.
This article was originally published on China Dialogue under a Creative Commons licence.
Did you find this article useful? Join the EB Circle!
Your support helps keep our journalism independent and our content free for everyone to read. Join our community here.